Trentham Pottery Owner Profiles
Wiltshaw & Robinson - Carlton Ware
In 1890 James Frederick Wiltshaw with William Herbert Robinson and James Alcock Robinson were trading under the name of Wiltshaw & Robinson
Photo shows examples of their blushware
In 1894 they introduced Carlton Ware and the factory on Copeland St. in Stoke was named Carlton Works
In 1894 Wiltshaw & Robinson's backstamp changed from the Ribbon mark to the Crown Mark.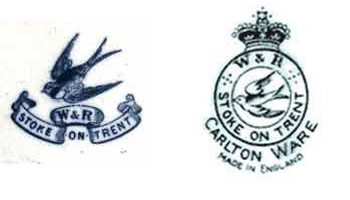 In 1903 Wiltshaw & Robinson began production of Heraldic Souvenir China which continued into the 1920s.
In 1911 The partnership dissolved leaving JF Wiltshaw in sole ownership. The business continued to trade as Wiltshaw & Robinson Ltd
Photo shows Carlton "Kitchen range with kettle" from 1917
In 1918 James Wiltshaw died in an accident and the business passed to his elder son, (Frederick) Cuthbert Wiltshaw (born 1892)
Photo shows Cuthbert with his daughter, Betty, from family collection.
The interest across the world in the discovery of Tutankhamun's tomb in November 1922 led to a great variety of commemorative ware and, not to be outdone, CarIton Ware offered a range of bowls, vases and jugs showing images of Egyptian Art.
Photo shows design "Tutenkhanum".© Carlton Ware World
In 1915 Cuthbert married Alice Tomkinson and they went on to have four daughters - Betty, Pauline, Patricia and Eve.
In the late 1920s, many fantasy designs were developed using multi-layering techniques. There were lustrous glazes and gilt outlines highlighted by bright enamels.
Photo shows design "Paradise Bird & Cloud".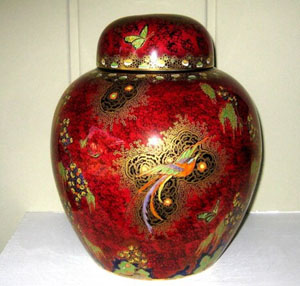 In 1928 the company expanded and acquired the Vine Pottery, previously Birks, Rawlins & Company. This company made Carlton China while Carlton Ware was earthenware.
Photo - Carlton China dinner set
In May 1931, bad judgement by Carlton Ware's bank, led to the appointment of a receiver, though less than a year later receivership ceased and the bank eventually paid compensation.
In 1939 Cuthbert's brother, Douglas (born 1903) was living at 16, Parkway in Trentham with his wife, June.
Douglas worked with his brother at Carlton and "managed the clay end." He was popular and liked by all he worked with. In 1948 he resigned his directorship and moved to Eire to work for a pottery there, but after a short time returned to Stoke.
Douglas and June's marriage ended and she moved away to Burnley. Douglas died in Newcastle in 1960.
Cuthbert's daughter, Betty, after studying at Burslem School of Art, became a ceramics designer joining the design team about 1937. She was the only one of her siblings to join the family firm.
Photo shows Betty's design "Rayure"
Attending a Carlton works dinner to celebrate her 21st in 1938, Betty is standing. Her fiancé Francis Waylen is on her right and her parents Cuthbert and Alice on her left.
Photo shows Betty's "Redcurrant" salad ware
In 1938 Betty married Francis Waylen and they moved to Scotland.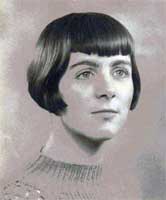 During WW2 Pauline Wiltshaw worked in Trentham ballroom for the Central Clearing House. She later married Jim Collier.
Patricia Wiltshaw - seen here in her WRENS uniform. She later married John Mellard.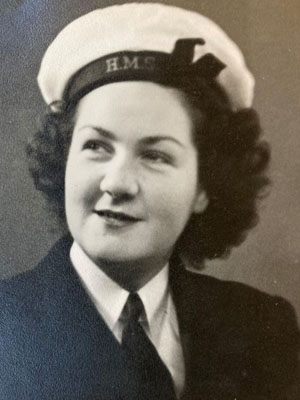 Eve Wiltshaw studied medicine and became a pioneering research oncologist at the Royal Marsden Hospital in London. She received an OBE for her work and has a ward named after her.
Photo shows Eve with her OBE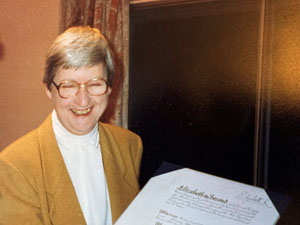 Francis Waylen died while fighting in Sicily in 1943 and Betty returned south to live in Barlaston with her parents. In 1945 she and her children moved into a house on Fieldway, Dairyfields in Trentham.
Cuthbert's wife died in 1952 and he moved into Fieldway with Betty and his grandchildren after the house had been extended to accommodate him.
Photo shows Cuthbert and his wife, Alice.
Photo shows the Fieldway house (on right) in the late 1940s.
Cuthbert continued to run the pottery until his death in 1966.
Image shows examples of the two most popular ground colours Ruby Lustre and Powder Blue produced under Cuthbert's direction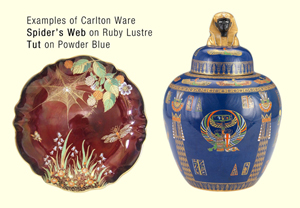 In 1958 Wiltshaw & Robinson Ltd, makers of Carlton Ware, was renamed Carlton Ware Limited.
After Cuthbert Wiltshaw's death in 1966 the company was sold to Arthur Wood & Sons the following year.
After finding their feet, they carried on Carlton Ware's tradition by introducing many original pots, especially those designed by Roger Michell and Danka Napiorkowska of Walking Ware fame but also by in-house designers Pam Souch and Dawn Mincher.
Photo shows examples of Walking Ware teapot, sugar bowl and jug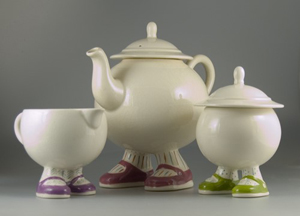 In 1926 Cuthbert had registered the Carlton Ware Script mark (written in his hand) as a trade mark and this too was sold by the receivers. The trade mark was bought by John McCluskey, who made ceramic hardware in his industrial unit in Stone. Mr. McCluskey relaunched Carlton Ware in 1990 with a range of novelty teapots. This enterprise was short lived and eventually the trade mark was sold to a Francis Joseph Salmon in 1997.
Photo shows Carlton Ware registered backstamp
The Carlton Works in Copeland Street was sold in 1989 to a property developer and converted into workshops, offices and student accommodation. The Carlton Ware trade mark, known as the script mark, was sold separately and subsequently used on ware made by various other Staffordshire potteries, though branded Carlton Ware, as it is known, ceased to be marketed in 2014.
Photo shows trade mark used by Frank Salmon from 1997

The sale of the Carlton Works was a sad but typical end for a much loved Staffordshire pottery, although Carlton Ware's legacy has to be its large range of extraordinary pots made over almost 100 years between 1890 and 1987 and still sought after by collectors today.
Photo shows Carlton bowl with "Nightingale" pattern bought in a Stoke on Trent antiques shop in 2021.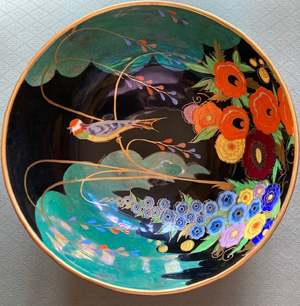 Grateful thanks to Harvey Pettit and www.carltonwareworld.com for some information and images and also to the Wiltshaw family for sharing family photos.